Thanksgiving Feast and Family Ride
November 24-27, 2022
Come join us for the Third Annual Thanksgiving/Friendsgiving Celebration and Family Ride Thanksgiving weekend. 
We will NOT be having the VCORR Race on this weekend.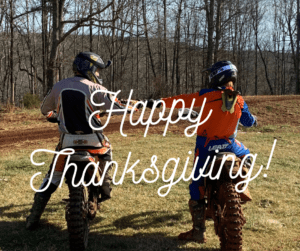 August 14, 2022
VCHSS Round 9 Will Be Here At Rivers Edge Outdoors
We wanted to commemorate the heritage of the property with the F&P Railroad Theme. You can still see the remnants of the rock pillars for the old train trestle that spanned the Pigg River. Come join us for the first ever MotoSport Roanoke Express at Rivers Edge Outdoors
Gates Open Friday At 5:00
Don't forget to look for event t-shirts with the Train Trestle at our Rivers Edge Tent.
The Club Riding will be closed from Wednesday through Sunday for this event.
July 9 & 10, 2022
We Are Super Excited To Host The First Ever Sprint Enduro World Championship 
Space Is Limited There's Only 350 Spots Available 
To Reserve Your Spot CLICK HERE


No Club Riding Sunday the 3rd through Sunday the 10th. 
Saturday & Sunday, June 25 & 26, 2022
Tide Water Dirt Riders Club will be here at Rivers Edge Outdoors
We will not be closed for this event. REO will be open to all our club members.
If you are a member of another dirt bike club and would like to schedule a club ride with us please email Lewis HERE with prospective dates and we will try to schedule the event.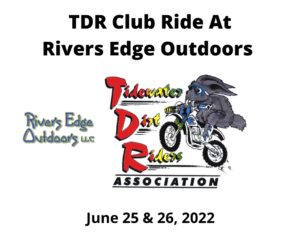 November 28, 2021
ROUND 2 VCORR Winter Racing Series Will Be Here At Rivers Edge Outdoors. 
Pre-Ride Friday 26th 9:00-4:00
Rivers Edge Second Annual Thanksgiving Feast (Potluck Dinner) After Pre-Ride Friday 26th 6:00 PM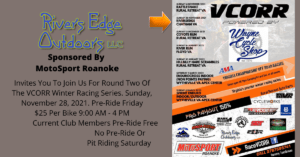 June 13 & 14, 2020 End Of The World Dirt Riders Party
Due to COVID19 April Fools was approved and then the permit was revoked. We're Having a Party here at Rivers Edge Outdoors. Come Join Us For Fun and Fellowship.
For details check out additional information on our Blog Post Here: https://riversedgeoutdoorsreo.com/blog/
March 15, 2020
We are super excited to host VCHSS Round 1, The Joe Lloyd Memorial Race, again here at Rivers Edge Outdoors.
Good Luck ! Remember at the end of the day Joe would always say, "But Did You Have Fun"?
Race Highlights

Future Events
Stay Posted For Future Non-Race Events Comming Throughout The Year. Club Sponsored Events.
Some events we are thinking about: night rides, poker runs/scavenger hunts, public day/cookout for membership drive, factory demo rides, canoe float with camping and trailride, outdoor music concerts. If you like these ideas or have additional suggestions please email comments below.
QUESTIONS…
For questions concerning an Event email us here.
EMAIL